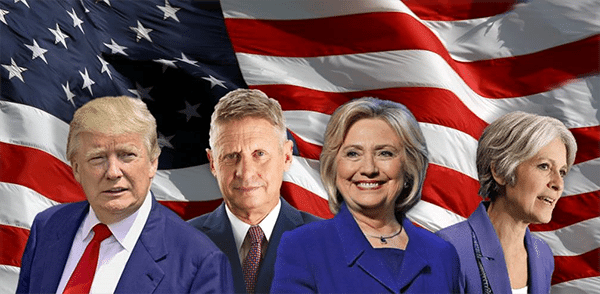 November 7 UPDATE: click here to view our final update post where we give our latest analyses just a day before the election!
Click here to go to our daily predictions page.
In the first 10 posts I mostly concentrated on theoretical topics. But the general focus of this blog is much broader. For the first time I'm going to show an actual application of probability theory for estimating real life events.
An ongoing event many people are closely following right now is the US presidential election. The primary season officially concluded at the end of July and now the general election battle is in full swing. The main clash is between former Secretary of State Hillary Clinton (D) and businessman Donald Trump (R). Clinton and Trump are challenged by 3rd party candidates Gary Johnson from the Libertarian Party (a two-time former governor of New Mexico) and Jill Stein from the Green Party (a physician and a political activist).