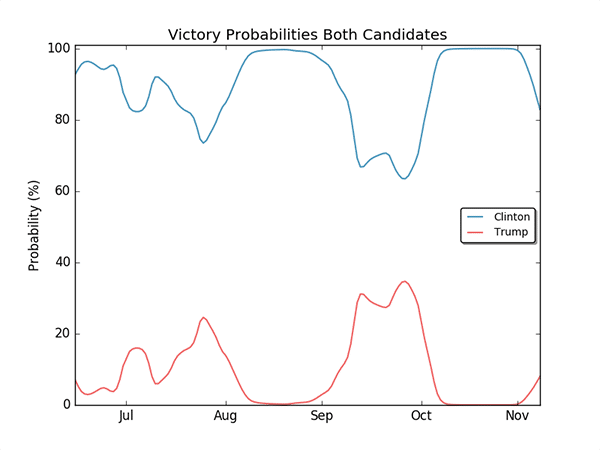 The moment of truth! The year-long battle for the White House is coming to its conclusion!
Tomorrow, voters in all states will determine the next US president in one of the most unpredictable elections in US history. Many people will be celebrating and many will be disappointed when the final votes are counted a little over 24 hours from now.
Donald Trump managed to achieve a miraculous recovery of his campaign just 2 weeks before election day. Currently, Hillary Clinton has about 76% chance of winning the election. Donald Trump's chances for a direct win are about 11%. There is also a significant probability of 13-14% for a tie between the candidates, which would send the contest to the US Congress!
So, this is our final update to the main post from September 20. Please click on the link for a detailed description of the election process and how we model it to make the predictions you see below. Click here to go back to the daily predictions page.
You can click on the date above the map to check the predictions for other dates. You can also click on different states on the map to see our state-specific predictions.
The following plot shows the evolution of Hillary Clinton and Donald Trump's general election win probabilities.
In the next two plots vertical lines mark the dates on which significant events occurred. By significant, I mean events related to a candidate that caused significant controversy and received significant attention by mainstream and social media. To me, these are the most interesting plots because they can give insight about voters' actual reactions to the events which circulated around media.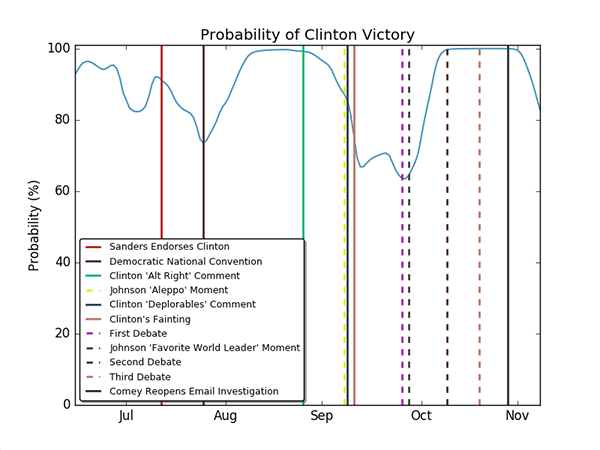 Each event is shortly described after the plots.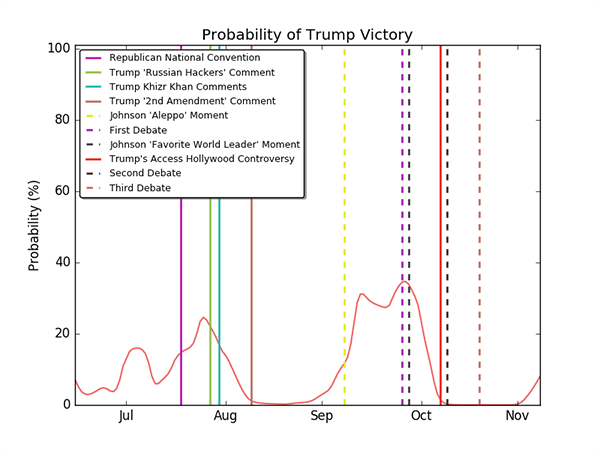 Finally, these are the expected number of electoral votes each candidate is expected to win: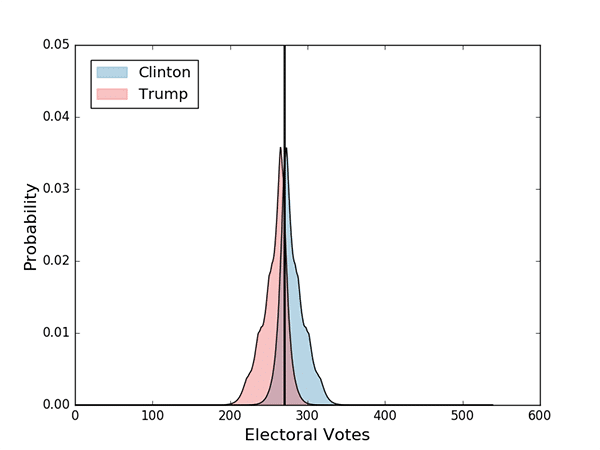 If you've been following our previous update posts, you'll notice how much the overlap between the two distributions has grown in only a month!
---
Let's all stay tuned and follow the culmination of this exciting and nerve-racking election! Don't forget to check the main post tomorrow for the final updates of our predictions on election day itself.